Out and About - 2020
Here you will find a brief summary of the events in which our Branch members have been involved. Full accounts are published in the members' Branch Newsletter each month.
Annual Post Christmas Lunch, Ferraris Country House Hotel - Sunday 20th January 2020

Always an enjoyable event coming, as it does, after the excesses of Christmas and New Year are out of the way, this year saw 56 members and friends get together for an excellent meal superbly organised as always by member Shirley. Everyone was welcomed by our Chairman Terry Traylor who wished everybody well for the forthcoming year and season. The menu was excellent and varied and soon everyone was chatting about what they had been doing over winter and the events they planned to attend during the year. It was great to see friends from MMOC North East Lancashire Branch and Blackpool Vehicle Preservation Group as well as members who are not always able to attend Branch meetings come together for this annual event which is always eagerly anticipated. As usual the event drew to a close with a happy group photo!
Manchester Branch Rally, Museum of Transport – Sunday 23rd February 2020

Over 50 Morris Minors attended this year's 24th Manchester Branch Rally at the Museum of Transport at Cheetham Hill. The first event of the year for many and indoors too - very welcome in February! The Lancashire Branch MMOC was represented by several Branch members with their cars. It was a great show - as always. On offer were bacon rolls and hot drinks etc. at the cafe plus free rides in the morning and afternoon on vintage buses around Manchester. There were also stalls selling spares and motoring memorabilia and, as usual, a warm and friendly welcome from the Manchester Branch members.
Two cars belonging to our Branch members won first and third prizes and Lancashire Branch members are proud to have won first prize four times out of the last six rallies at Manchester.
For a short video of this excellent event click HERE.
Classics at the Mill - Sunday 8th March 2020
It was back to business as usual at the St Catherine's Classic Car Meet at the Mill on Sunday 8th March. Whether it was a significant improvement in the weather or the fact that the Café was open again, we were not sure, but there was a good turnout and range of classic cars on show. There was a strong showing of MG's (mainly of the more modern type) and most were parked together so it looked like they use the meet for a group run out.
There was a Morris on show but no Minors perhaps due to their owners leaving them in the garage because of the salty roads! One Branch member's favourite car on was a lovely Volvo rally car which looked immaculate so its owner clearly looks after it well. Sadly the next meet at St Catherine's on Easter Sunday has been cancelled. However when things return to normal later in the year these meets start at 10am but on a nice day it is best to get there earlier to get a decent space. We hope to see some of you there at some stage in the future!
National Stay at Home Motor Show – Sunday 3rd May 2020
A couple of our members displayed their cars as my part of the 'Car Show for Carers'. The idea was to have classic cars on display either on our driveway or on the road to let passers-by admire our cars while out for their daily exercise and to also raise money for 'Classics for Carers'.
Branch Visit to Leighton Hall - Sunday 6th September 2020
In early September, Branch members accepted an invitation from the owners of Leighton Hall for Morris Minor owners of Cumbria and Lancashire, to visit this historic country house and grounds. The weather forecast had probably deterred some people but we were fortunate to have very good weather. There was a good display of Minors plus an MX5, MGA, a classic Rolls Royce along with a few modern saloons. Richard's classic Roller seemed big enough to hold a Minor in its boot, we wonder how many gallons to the mile it consumes? Two Branch members who had only joined the Branch the previous day attended the event; Gordon who had owned his Minor for only a few days and Becca who has owned her Minor since she was the ripe old age of only 12! Becca is a photography student and she has contributed the photos taken on the day. Many of us joined a tour of the house and were guided by one of the owning family members who gave us a fascinating insight in to the history of Leighton Hall and its succession of owners. Excellent food and refreshments had been prepared for us. The Leighton Hall folks had worked hard to reopen their beautiful home and grounds at the same time as maintaining COVID safety measures and to make us very welcome. After six months of no Minor events, a good day was had by all.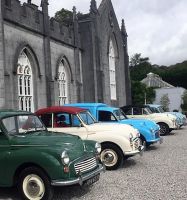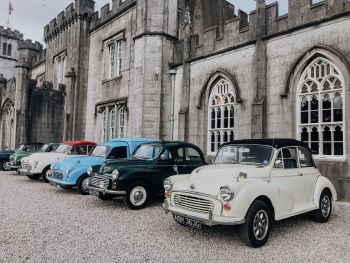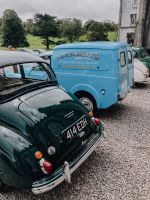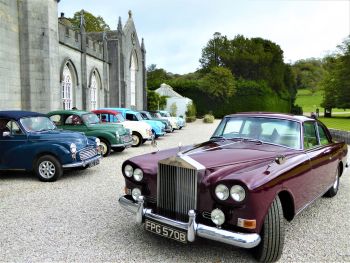 ---
Morris Minor Owners Club
"Our aims are simply to promote the preservation and use of the postwar Morris Minor, 1.6 million of which were built between 1948 and 1971.
The MMOC exists to unite these people who have a fondness of these loveable jellymoulds, and those people who still use them as everyday transport."