The forecasts of dismal weather conditions didn't materialise, and the day was bright and dry. The forecasts resulted in us all using our "modern" cars, so there were no Minors in the car park. Not surprisingly, in the middle of the Covid Omicron cases surge, there were several understandable withdrawals from our traditional New Year lunch at Ferrari's restaurant in the Ribble Valley. However, there were still over 40 in the Venetian dining room at Ferrari's. Both the service and the food were excellent and so was the company for our first Branch outing of 2022, all agreed that it was a thoroughly enjoyable afternoon. Branch chairman Barbara Fisher thanked members present for joining the event and wished all members and families best wishes for the new year. Special thanks were offered from all present to Shirley Riley for her hard work in organising such an enjoyable and successful event in uncertain Covid times.
Manchester Branch MMOC Winter Rally - Sunday 27th February 2022
The alarm clock was set for 06.00 hrs. and we left just after 07.15 to meet up with the others at Rivington Services on the M61. It was a lovely drive down the M55, M6 and M61 with the morning sunshine dazzling in places. We were first to arrive at Rivington and where inside having a coffee when Lancashire member Byron arrived, closely followed by Chairman Andrew, Frank and Maureen, Steve Rose and Ian Wilson. Andrew had quite a group of spectators has he undertook some last-minute polishing of Teresa's convertible. 6 Minors left Rivington Services in convoy and arrived at the Bus Museum without incident and were quietly marshalled into place inside. The customary bacon butties and tea/coffee were quickly consumed.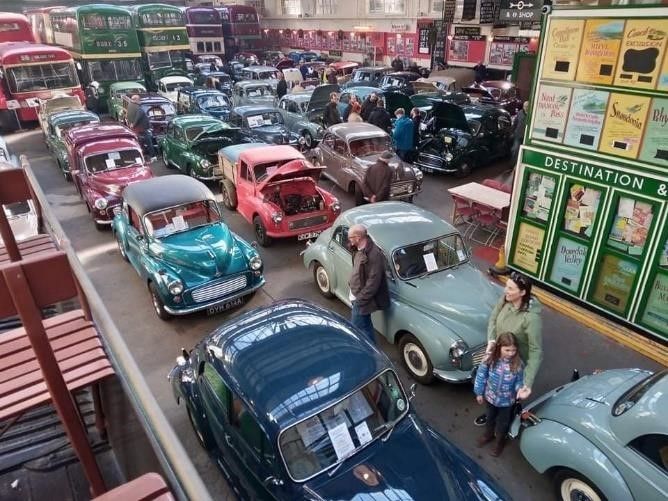 I counted 50 Minors in total; 41 inside and 9 outside and Lancashire Branch was represented by 16 Minors and at least 20 members. It was a good feeling to meet up with old friends after 2 years of restrictions. Messrs. Thornton and Littlewood were among several Minor Owners selling their wares, along with the regular auto-traders. There was a really good selection of Minors on display to the public this year, from the tatty and useable, well-kept 'pride and joys' to recent restorations. I particularily liked a 1965 Clipper Blue '3 Door' Saloon - well, that is what was on the vehicle's information sheet!
Morning and afternoon vintage bus rides came and went and then it was time for the presentation of awards. Lancashire Branch kept up its tradition of of being placed in the awards at this event. Congratulations go to Andrew and Teresa's Old English White Convertible which came 3rd in the event.
On Red Nose Day on 18 March, 14 cars all displaying appropriate noses and plaques met at Fox Lane in Leyland before driving to Southport, calling in at J.D. Christian's wonderful museum of old cars – mostly Rolls Royces and Bentleys. The museum is privately owned and has a magnificent array of motoring memorabilia as well as the cars all waiting to be restored or started up. It was a real treat when the owner started up a huge and magnificent old Rolls Royce and slowly eased it forward out of its garage.
After visiting the museum, we drove to the Ocean Plaza in Southport, adjacent to the pier, for lunch. A fantastic sight with all 14 Minors in a row which attracted much attention and interest from passers-by who generously donated to the Red Nose Day appeal. One young man put some coins in the bucket and said "What are these cars?" When he was told that they were Morris Minors he asked "Is Morris a make of car then?"
Finally, we visited the British Lawnmower Museum where an amazing display of lawnmowers from the day they were invented to current models were on display – some incredible and very expensive machines in their day. There was even a machine with "Minor" written on its side – could it have been a distant relative?
This was a fantastic day and we raised a magnificent sum of money which was donated to Comic Relief.
Some Branch members went along to the Lancaster & Morecambe Classic Car Club informal Cars and Coffee meet, on the Morecambe Bay seafront at Jo 'n' Lee's by the Sea cafe's very large car park. It was a beautiful day and it felt more like May or June. There was a wide range of cars to see from 1930s classics to recent model American gas guzzlers and there was very sociable atmosphere amongst owners and viewers.
Since 2013, each Good Friday, the Branch has had a run out to the Bolton and Embsay Steam Railway near Skipton. Covid restrictions meant that we have had to miss this event for a couple of years but this year we were able to go ahead with it again.
There were two options for the day. One was to go straight to the station and the other was to meet at the McDonald's on the A59 near Clitheroe and then drive in convoy from there to meet up at Bolton Abbey Station. Most people opted for McDonald's and the convoy run. I counted 13 Minors at the McDonald's car park and all were there in good time to get a drink and some breakfast as well as having a chat and catch up before setting off.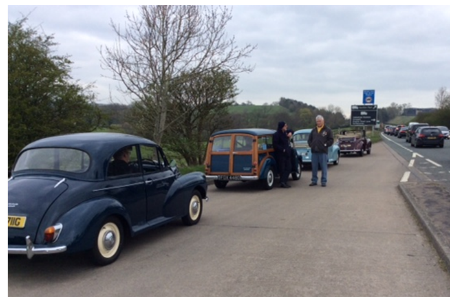 The A59 is a busy road, so we did all get separated a little on the journey but the convoy was expertly led by Mike and Tony in Mike's stunning convertible and they found a large lay-by part way for us to all get together again. Thanks to a kind driver, we were allowed out of the lay-by together and arrived at Bolton Abbey Station within moments of each other.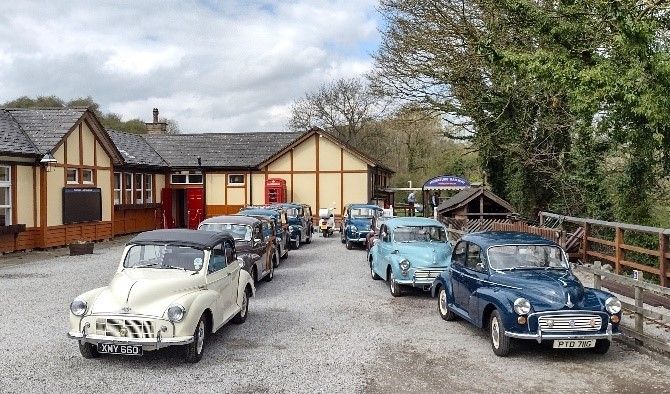 We couldn't all get parked together at the station because with 19 cars there were too many to fit in our usual area by the booking hall so the remaining cars were all parked in a row on the next section of car park. We had 27 people attending the event, which was a great turnout.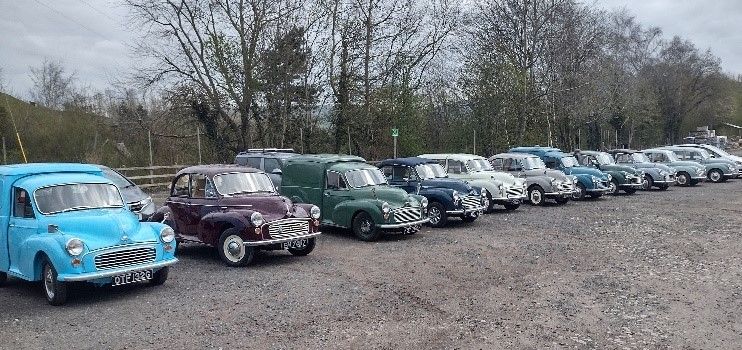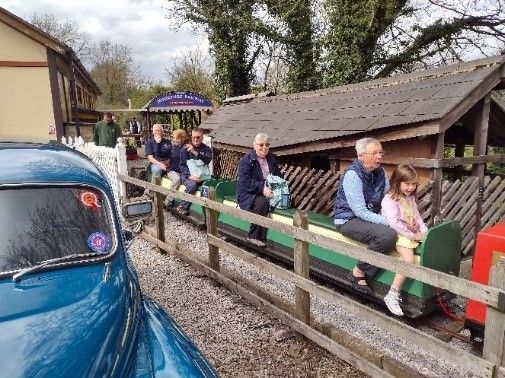 The Branch members who did not go on the steam train journey to Embsay, drifted away from the station and went for a beautiful walk up to nearby Bolton Abbey.. We had lovely weather on the day, so it was a pleasant stroll in the stunning countryside. Lunch was then taken in the picnic area in the station gardens before several members relived their youth by having a ride on the miniature railway that runs from the side of the café down the length of the car park. Judging by the smiles on their faces, it was a pound well spent. After a great day members set off separately on their journey back home having enjoyed a lovely day at the railway.
On Drive IT Day several members took their Morrises out for a run. These included a trip to the Lancaster & Morecambe Classic Car Club coffee morning at Jo 'n' Lee's Cafe at the north end of Morecambe promenade, a run to Glasson Dock and a car run to the Watershed Mill at Settle with the Blackpool Vehicle Preservation Group (BVPG). It was a lovely sunny day and members , and their cars, enjoyed getting out and about.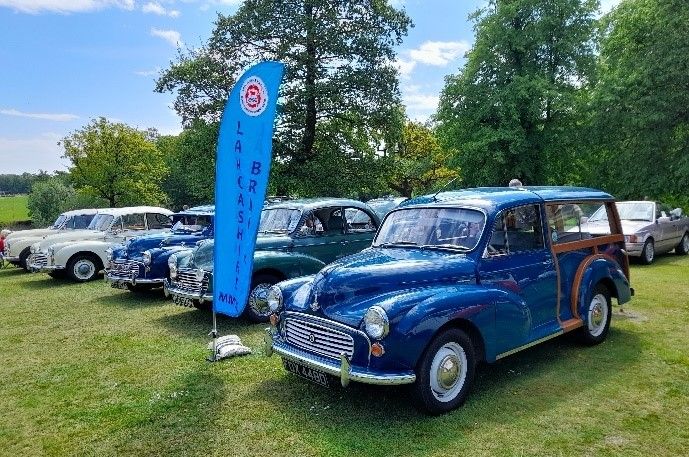 This annual local show is organised by the Lancashire Vechicle Club (LVC). Several members attended and were parked in front of Hall and overlooking the lake and fountain.
It was really a lovely day. Sadly, the Hall was closed due to ongoing renovation work but the courtyard café did a roaring trade and the gardens were open and of course plenty of cars from all decades to admire as well as our Minors.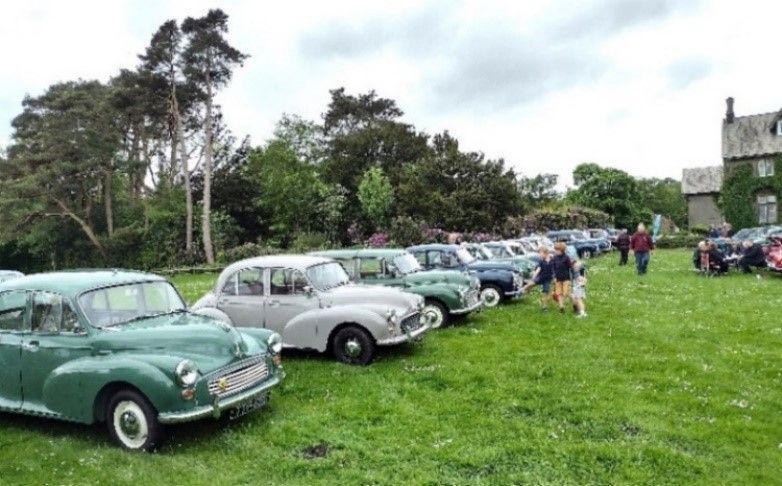 Bleasdale Tower is a grand house in Lancashire built in the mid-19th century as a private residence which it remains to this day. Surrounded by magnificent, but relatively small, gardens with terraces and shrubberies dominated by beautiful rhododendrons it is not normally open to the public – except on one weekend a year when it opens to raise money for local charities.
The organisers welcome classic cars to the event and so the Branch rose to the occasion with 15 Morris Minors meeting at The Flower Bowl on the A6 before driving in convoy to the house. The approach is down a long winding drive and the cars looked impressive as they drove towards the house. A Guardian Concert Brass Band played on the lawns, whilst in the courtyard plants were sold and home-made beef burgers and hot dogs were served – it would have been rude not to try them! And cream teas with homemade cakes and strawberry cream scones were also offered. A lovely event!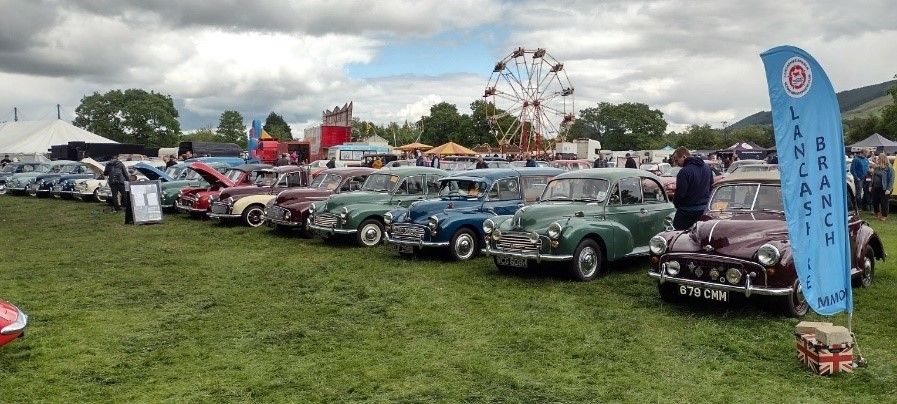 Always a highlight in our events calendar Chipping Steam Fair this year, back after a two year absence, was no exception. Displays of wonderful steam traction engines of all sizes, vintage tractors, food and craft stalls and of course classic cars made it a great event.
And the Branch rose to the occasion with 15 cars meeting at Sainsbury's in Longridge before driving to the show ground in convoy. What a sight that was for passers-by and cyclists!
Once at the ground the cars were all parked in a line making a spectacular display and in total we counted 23 Minors of all types in the display area. The odd shower didn't dampen enthusiasm and at the end of the day we all drove into the arena to show off to the public before making our way home. A great day meeting and chatting with like minded people as well as enjoying everything else the show had to offer.