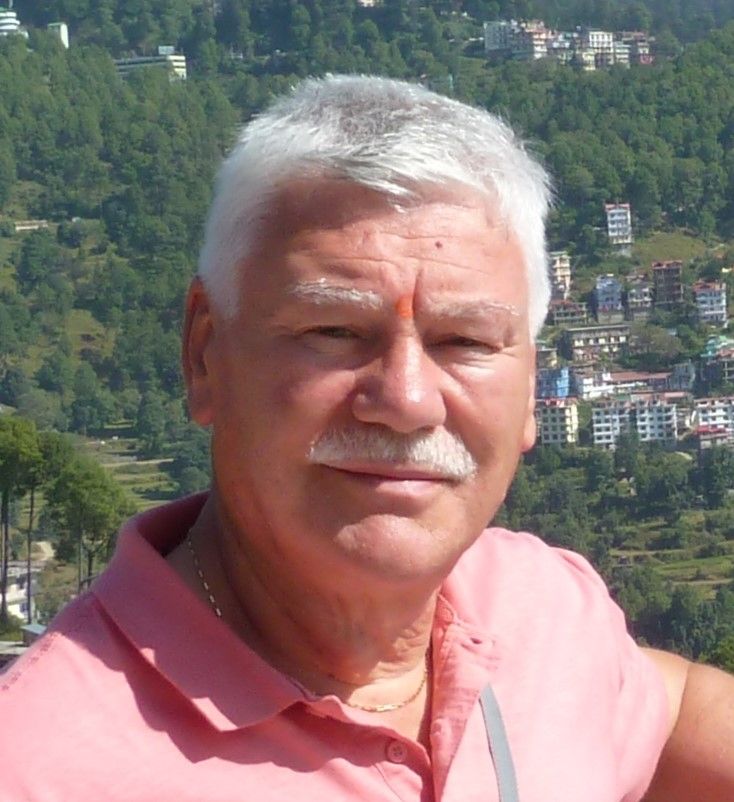 "I love driving my Morris. While I can appreciate and understand the mechanics under the bonnet, I have to admit that what originally really attracted me to the MM was its innovative and avant-garde design." - Tony Fennell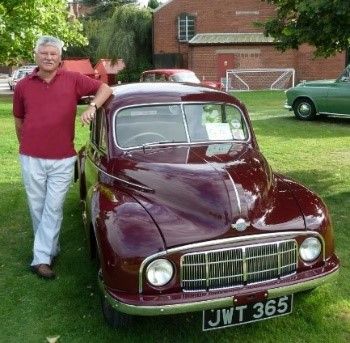 I had always enjoyed travelling and visiting places and classic events in Mike John's Series II convertible when he was Chairman of the Leicestershire Branch MMOC. I also really liked the maroon colour as it reminded me of my dad's maroon Riley RM in which I learnt to drive – too many years ago! I had often said casually to Mike that if I ever got a Morris Minor it would have to be a low-light and maroon, little thinking that it might become a reality. I did actually see one advertised but never thought much more about it – just a pipe dream! Well you can imagine my surprise when a few months later a MMOC Leicestershire Branch member turned up to the Branch's 2009 rally in the same car. I was really impressed with the vehicle and half-jokingly said to the owner that if he ever wanted to sell the car (something I suspected that he would never want to do) could I have first refusal. Fast forward 18 months to January 2011 when I got the call to say that the car was for sale and did I still want it? I could not believe it and better still it was only ten miles away from home. With unseemly haste I arranged a visit to inspect the car with a Branch expert which resulted in a deal being done and JWT was mine.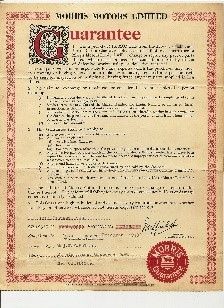 It was not until I had got the car home that I fully realised how original JWT (Jolly Well Tested) was. The car was registered on 13th December 1949 and came complete with all the original registration and purchase documents. Purchased on 19th December 1949 JWT cost the princely sum of £405-8s-2d and this included the vehicle licence at 18s-4d, 3 pints of Bluecol anti-freeze for 19s-6d, 2 rubber mats at £1-3s-0d and insurance for a mere £11-16s-3d. That was some early Christmas present! It even had the original Duckham's lubrication chart as well as AA and RAC booklets for that year. The original, and rather elaborate, Guarantee was also present and amusingly stating that the vehicle was covered for replacement or repair of defective materials and workmanship for a whole six months! I obtained a Heritage Certificate from the Heritage Motor Centre at Gaydon and this confirmed that all the information I had was correct.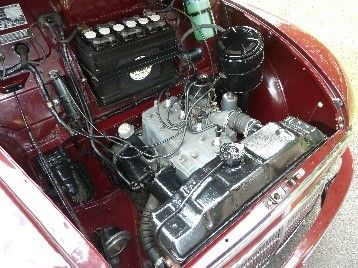 The original owner was a Major Holman who purchased the car from Tattersall's Garage in Gisburn, which at that time was in Yorkshire. He and his wife lived at Gisburn Park and were JWT's custodians for the next 27 years. In 1992 the car was restored retaining the original specifications right down to the single wiper and sun visor (originally they were never fitted to the passenger side), lack of indicators, no water pump, no heater, no seat belts, of course, and no hope of exceeding 55mph!
The engine is a 918 cc side valve unit and this looks and performs very differently to the later 'A' Series installed in most Morris Minors today. However JWT still performs well, is always reliable and is still motoring even 73 years on - and long may JWT continue to do so!