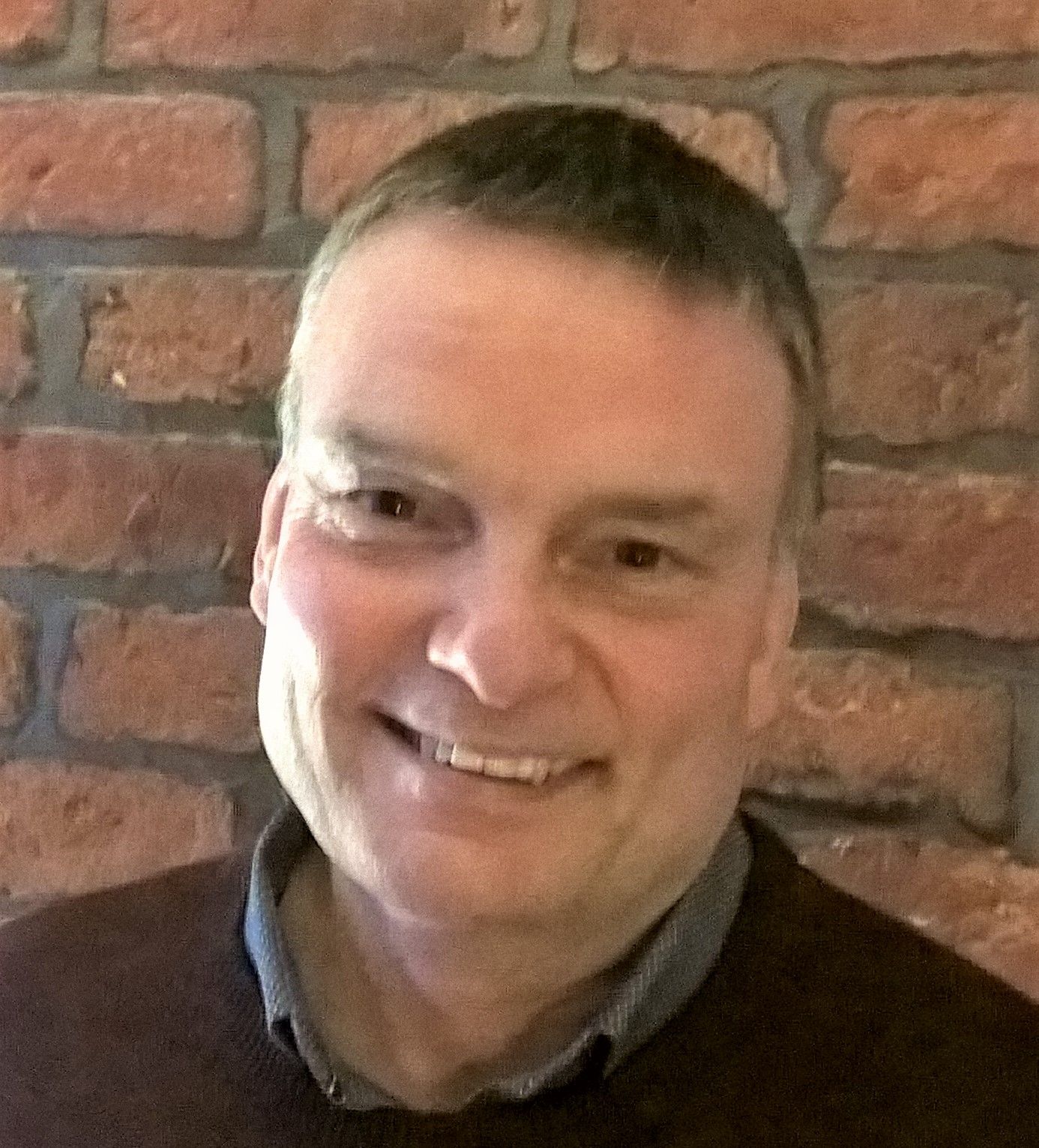 "The ups and downs of Minor ownership (an illuminating insight into how Wendy and I came to 'win' the Hard Luck trophy in 2016)" - Steve Blundell
My first foray onto the roads was on two wheels not four. In my late teens I had need of transport and a family friend was persuaded to part with his 1959 Triumph Tiger Cub for the princely sum of £75. This of course was at a time when it would have been regarded by many (but not me) as just "an old bike" rather than a classic vehicle. I paid for it out of my savings, which I thought disproved my parents theory that I spent all my income on beer and going out. I kept it for over 30 years and remember it fondly, but it ended up stored in pieces in the loft. Its memory lives on however, as its registration number is now on our Minor. For the purists, don't worry, our car had a non-original registration when we got it.
My favourite classic bike that I owned was a 1956 Triumph Speedtwin which I had for 25 years. It was painted silver when I bought it, but I returned it to its original colour of maroon.
(Well, where to start? I was there when this was photo was taken and even I'm not sure it's me. But it must be because that's our dog Min with me on the Speedtwin. And lurking in the background are signs of my former life as a single man – the dartboard and the pool table in the conservatory).
But there was one bike that I wanted but never owned because I could never afford it. I lusted after a Vincent Black Shadow, which when it was new was marketed as "the fastest production motorcycle in the world", allegedly around the 125mph mark.
But there was one bike that I wanted but never owned because I could never afford it. I lusted after a Vincent Black Shadow, which when it was new was marketed as "the fastest production motorcycle in the world", allegedly around the 125mph mark. Only about 1700 were made, between 1948 and 1955, which made it desirable, rare and for most ordinary mortals eye wateringly expensive. Someone suggested taking out a loan but they didn't realise the sum involved. The nice people at the Nationwide are very understanding about giving mortgages on houses, but less so about lending the same sort of money for "old bikes". Oh, the folly of youth!
My first 4 wheeled transport was bought from a family member when I needed a car to learn to drive in. It was a Fiat 127 (all I can say in my defence is it was cheap, I was young and I didn't know any better) with rather nice silver-grey paintwork. I'm not sure what the 127 represented, it certainly wasn't the top speed. Possibly it was the time taken in seconds to reach sixty miles an hour. The Fiat engineering/quality control policy of the time dictated that whatever colour the car was when it was new, it would not take long to change into a two-tone livery (the original colour plus a nice rusty brown). Maybe the 127 was the number of days before the rust started to show.
Fast forward now to 2014. Wendy and I had recently sold our motorhome and were thinking about what new interest to take up. A quick check on the internet told me that I still couldn't afford a Vincent. (Oh, the folly of middle age). Out of the blue an idea came to me. "What about a Morris Minor?" And so it came to be. After a 12 month restoration we took delivery of 'Miles'.
Roll forward now to 2016. We had not been to the Blackpool Illuminations for a long time and were really looking forward to going in convoy with our friends in the Club with our Minors. I was particularly looking forward to the fish and chips afterwards too. Fate was about to intervene however. We set off from the Phantom Winger in Preston but unfortunately some of us became separated from the cars at the front by traffic at a roundabout. At the next junction, not knowing which way to go, we all set off in the wrong direction. Wendy and I realised this wasn't right and turned round at the next roundabout to go back and try to catch up the leaders on the motorway. What could go wrong?
As we approached Blackpool we realised we hadn't been going fast enough to catch up the leaders so we didn't know which way to go. (Wouldn't have happened with a Vincent!) By the end of the motorway, the indicators and the fuel gauge had stopped working. (Not even possible on a Vincent!) I had brought along a Blackpool A to Z but of course not having been before, we didn't know where the next meet up point was - the mythical "old tram sheds" so we couldn't use it. Not to worry - we could follow the helpful road signs to the Illuminations. Which is how we ended up driving through the lights in the opposite direction to everyone else (everyone else had met up by now and set off together).
On our way through, we spotted everyone else passing by on the other side of the road. The sight of all the Minors in convoy was lovely, it was just a pity we weren't with them. We waved but nobody in the Club saw us, although one or two people in the cars following the Minors did wave back! There wasn't room to turn round to join the convoy so we decided to cut our losses and head off for something to eat. We couldn't join the others for a fish supper as we didn't know where they were headed. It has been suggested by some that we were "lost" in Blackpool, but I don't think we ever were – we knew exactly where we were at all times - we just didn't know where everyone else was.
I found the McDonalds on our way back to the motorway (finally our luck had changed!) and pulled up at the hatch in the drive through and asked for two burgers with fries and two milkshakes. The young lady was quite apologetic - "Sorry sir, the milkshake machine is broken. Nice car – where are you going?" - Home!.
And so Wendy and I were awarded the 'Hard Luck Trophy' that year. But we have to say that there are far more 'ups' than 'downs' when it comes to owning a Minor. There may be an odd mechanical niggle or missed fish supper, but we have made so many friends in the Club and had such wonderful times. Morris Minors bring so much pleasure to so many people and we feel privileged to own one. And even I have to admit a Minor is far more practical transport than a Vincent when it starts to rain.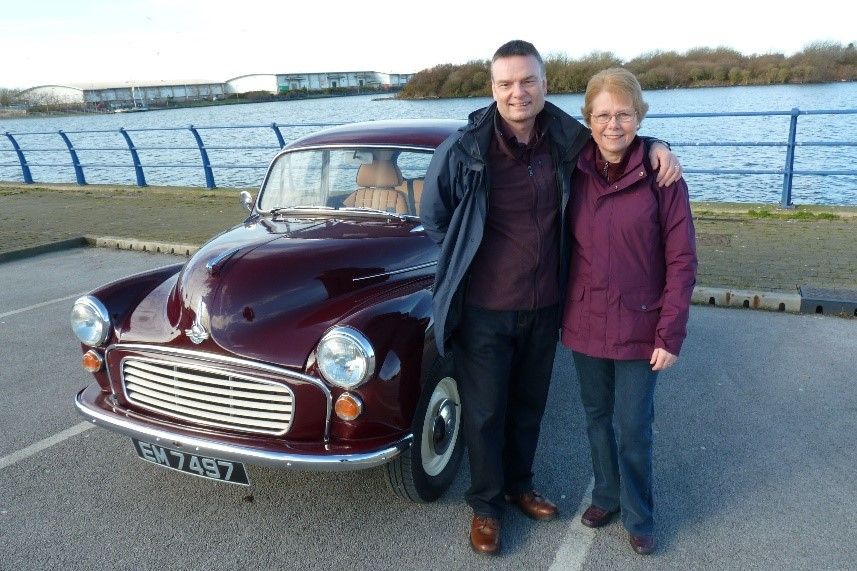 (Wendy and me with Miles in Southport. He was originally painted black, but we changed him to Maroon B when he was restored. Unlike Midas, it seems everything I touch turns to ….. Maroon)!