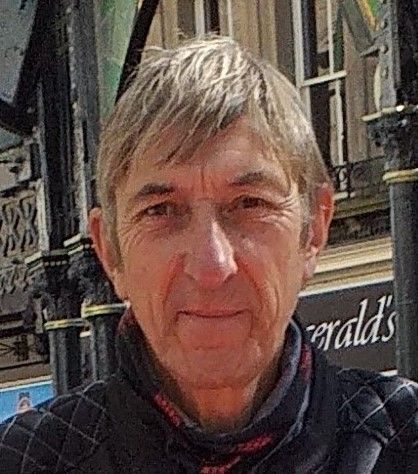 "In July 2018 I and my friend Tony Seed made our way over to France for the Le Mans Classic. We took my BMW and drove south for what proved to be a great event. Here is an account of this high octane and brilliant motoring extravaganza." – Keith Bridge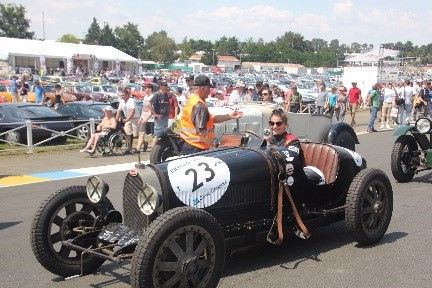 The Le Mans Classic runs on the first weekend in July, every other year. This year's event was no exception. The number of historic racing cars increases, event after event, 1000 drivers coming from all over the world to compete in 700 historic cars, plus more car clubs, exhibitors and activities, which confirm the growth since its creation in 2002. This biennial event, a mega-sized retrospective of the history of the 24-hour race, has fired the enthusiasm of collectors, who take advantage of this unique opportunity to race their cars on the big (8.5km) circuit. The same goes for the spectators, who flocked to the event in even greater numbers than at previous Le Mans Classics – a new attendance record of 135,000 present at this year's weekend races, represents a 10% increase compared with 2016. I'm sure the glorious weather helped!
Next came the Little Big Man's 'show'. Almost 100 young drivers, aged 7 – 12, ran towards their cars, scale models of those that had raced at Le Mans, to cover a part of the shorter Bugatti circuit. The models were powered by lawnmower engines (I think), Ford GT40, Ferrari 330/P2, BMW 328, XK Jag, Bugatti Type 35, Corvette – even a Model T Ford! Unlike its modern counterpart, the cars do not run for 24 hours. The Classic is split into 6 grids covering 1923 to 1981. Think of a sports racing car, and it would be there!
Grid 1 1923 – 1939 included a 'blower' Bentley, Alfa BC2300, Talbot 105's, Bugatti, BMW 328 etc.
Grid 2 1949 – 1956 XK120, C & D Types, Lotus 11, Healey 100/S, Aston Martin DB2 etc.
Grid 3 1 957 – 1961 Lister Jaguar, Cooper, Lotus, Porsche 356, MGA, Ferrari 250GT, Corvette etc.
Grid 4 1962 – 1965 Ford GT40, Shelby Cobra, Ferrari 250LM & 275GTB, Porsche 911, E Type etc.
Grid 5 1966 – 1971 Lola T70 & 210, Chevron B8 & B16, Porsche 911/917/906 etc.
Grid 6 1972 – 1981 Porsche 935 & 924, BMW 3.0CSL, Ferrari 512BB, Lola etc.
The festivities really started on Saturday morning, (practice was Friday, day and night). After the parades of cars from various car clubs, and the Le Mans Heritage Club (24 cars that have raced/won at the circuit), the Jaguar Classic Challenge kick-started the racing. 60 of Coventry's finest C, D and E Types, XK's, Mk1's and Mk11's raced for 60 minutes, won by an E Type. It was then the turn of more recent classics – Group 'C' prototypes that ruled between 1982–1993. We saw 48 cars take part which included Jaguar XJR8, 9, 11, 12 & 14, Porsche 956 & 962, Peugeot 905, Nissan, Toyota, Mercedes, Spice, and Tiga in a 45 minute race. A new demonstration race for this year was the Golden Endurance Legends, GT1s and LM P1s of the 1990's and 2000's. Audi R8, Bentley Speed 8, Peugeot 908HDI, Toyota GT-One, Alpine A460, Ferrari 333SP, McLaren F1 GTR, Chrysler Viper GTS-R, Maserati MC12, Panoz, all revived recent memories.
Each grid had 3 x 45 minute races, one each on the Saturday afternoon, one Saturday night, and one Sunday morning. The infield was a little like the Goodwood Revival, with loads of car clubs (Renault Alpine, Lamborghini, Ferrari, Porsche, BMW, Aston Martin to name but a few). There was also a 'village' with shops for sports/racing clothing, car accessories, posters, badges, stickers, posters, models, food, drink – you get the picture. The auction on site set a new record, auctioning 30 lots of more than 200,000 euros, including a 1963 Merc 300SL Roadster with only 1380km and a single owner which sold for 3,143,000 euros! Porsche have invested heavily at Le Mans, with a Porsche Driving Experience, where you can 'pay to drive' on non-race days. They also had an extensive collection of immaculate factory restored classics on display. If none of this appealed, there was always the permanent Le Mans Museum on site....
We paid one of the specialist companies to organise our ferry, camping area & pitch, food and entry tickets for the weekend. This is highly recommended and takes all the worry out of going for the first time. Many people (including me) went along to see not only the racing, but the classic cars that people had arrived in – around 8000 I was told. A wonderful sight. Think of anything 'sporty' from post WW2 onwards and it would be there, somewhere! In 'our' camping field was an immaculate DB3, 4 x Lancia Stratos, Triumphs, MG's, Jaguars, TVR's, even a RR Silver Shadow! The campsite was enclosed by a strong fence, and had security 24/7. We found everybody was very friendly and most of 'our' campsite were Brits. In fact, most of the foreigners were Brits! The excellent, dry weather was a bonus – sunshine every day. We arrived on Thursday afternoon, and left on Monday morning, and drove 1000 miles round trip from the Manchester area.