Our Branch - Past to Present
In January 1981, at the Richmond Hotel in Southport, a group of Morris Minor enthusiasts got together to form the West Lancashire Branch - MMOC. John Wells was Chairman, Tony Seed Treasurer and Dorothy Wilkinson Secretary. Later in March

that year the venue was changed to the Ley Inn, Leyland and it was decided that the name of the branch should be changed to Lancashire Branch - MMOC. Some of those original people are still members today. The Branch rules stated
"Members and Visitors shall be invited to subscribe not less than 20p for Branch Meetings to meet Branch expenses". In 2000 the Branch moved to Fox Lane Sports and Social Club, Leyland where we continue to meet today and have been made very welcome.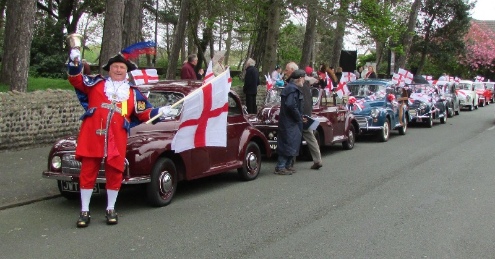 Over the years many members have represented the Branch at all kinds of events including National

MMOC

Rallies, Minors on Tour (MoT) held in France each year, The Lord Mayor's Show in London, the Roses Run (Morecambe to Scarborough) and several Branch Rallies and Events around the country. We have even appeared on TV!
St George's Day Parade at Lytham St Annes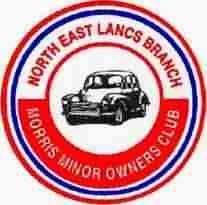 We have developed a close relationship with our sister group - the North East Lancashire Branch and in 2008, the Diamond Jubilee Year of the MMOC, the two clubs jointly raised around £4000 for Marie Curie Cancer Care with the sale of a 'Women's Institute type Calendar'. In 2017 we also played a part in the "MMOC John O'Groats to Lands End - The Long Way Round" which also supported the Marie Curie Charity.
At our meetings we have several different activities which include guests speakers, Quiz Nights and our "Bring Your Car Night", Treasure Hunts, Dutch Auctions and Raffles. We also arrange visits to local places of interest and have Car Runs which are always great fun. Some of our raised funds are used to make donations to local charities.


Members' cars at our 'Bring your Car Night' meeting - Summer 2017.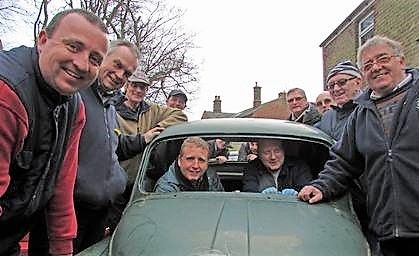 One of our popular initiatives has been the monthly 'Mechanic's Day' in

Garstang

where members can bring their Minors in to do repairs or servicing - or to have a cuppa and chat!
Mechanics Day selfie!
The Lancashire Branch is fortunate in that our members are always happy to share their expertise and knowledge of Minor matters with others and are pleased to offer help and advice where possible. Our members also come from a wide range of backgrounds and we are delighted to welcome younger and more recent enthusiasts of the Minor.
Do come and visit us if you can - you will be made very welcome.