Member's Story - Mike John

"I have always had an interest in cars from when I was a boy. This is a brief account of how I became hooked on Moggies." – Mike John
My first car in 1969 was a 1961 Ford Anglia – which, with its sloping back window and two tone paint, I thought was so much "cooler" than my mate's Morris Minor! That car taught me much of what I know about maintaining cars. It really was as simple as the Morris to work on – it must have been as I replaced the engine!
Fast forward to 1986 and following a serious road accident (another story!) I was getting bored and saw an advert for a black 1961 saloon which I then bought from a man in Grantham. It looked lovely and I kept it for 12 years but never really got into the Morris Minor scene with it and hence it got little use. I had however always hankered after a convertible and in 1998 for some reason which I have never understood (fate?) I went into a newsagent and bought a Classic Car Weekly – something I had never done before – and there on the front page and on the centre spread was an article on this lovely maroon convertible. Also it was for sale in Kenilworth not far from where I then lived in Leicester. I was so excited I asked for time off from work went to Kenilworth and bought it there and then (after a bit of haggling!). I fell in love with it but it was a bit sad with one or two bits missing and damp carpets from the hood being trapped inside the doors. It also had one or two spots on the paint which are still there today 20 years on and haven't got any worse! The picture shows both cars before the black one went off to its new home in Reading!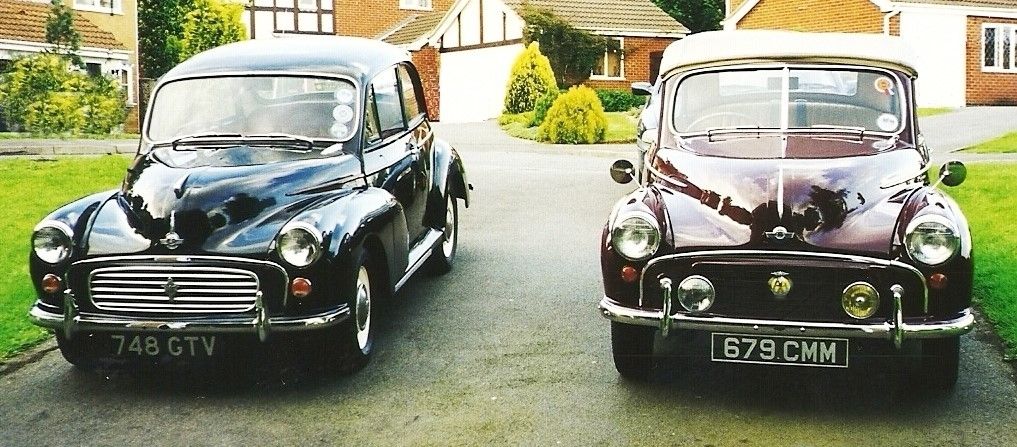 It was the year of the MMOC 50th anniversary celebrations at Blenheim so off I went with £200 in my pocket and a list of bits I wanted including the ultra-rare Series II screen surround and clips which were missing from the car. I got everything, came back with change, and was well and truly hooked on the Morris Minor scene!
Since then the car has bought immense pleasure – and some good natured ribbing (I think) about me not liking to get it wet. Problems? Well two (yes, two) throttle springs broke in one year and four (yes four!) condensers failed in a year before I got a good quality replacement from the Distributor Doctor. I did think about electronic ignition but after other members' experiences I am steering well clear. However there is one unsolved mystery. The car is one of the last "early" Series IIs registered – with gold dashboard and cheese grater grill but it has an MM bonnet and flash and has had for as many years as I can go back. Why? Use of old stock? Replacement bonnet? Who knows? But it is part of the car and often a talking point so will not be changed.
Ownership of the convertible opened new doors for me as I started going to a lot more events than previously. In 2003 I answered an advert calling on people to resurrect the dormant Leicestershire Branch and before I knew it I was the Treasurer! I then quite quickly became the Minor Matters Correspondent for the Branch before taking on the Chairman/Secretary roles for some years before leaving the area to move to Lancashire! I am always willing to help with club events but I have to admit that a break from the more formal committee roles is welcome and enjoyable.
I must say that whilst I love the car the most enjoyable thing for me is the camaraderie and the great people you meet through the club events. The Lancashire Branch made us feel welcome from the outset and it is a privilege to be part of such a great organisation.
Mike John
---
Morris Minor Owners Club
"

Our aims are simply to promote the preservation and use of the postwar Morris Minor, 1.6 million of which were built between 1948 and 1971.
The MMOC exists to unite these people who have a fondness of these loveable jellymoulds, and those people who still use them as everyday transport.

"